Want your own radio station ?
Start up your own online radio station now!
SHOUTcast servers with some great extras!
Prices starting only from $3.99.
See for yourself
RCAST Live Broadcasting Control Panel is easy to use and makes the complicated lives of online broadcasters a little simpler.
What can you do with RCAST CP?
RCAST Control Panel is a simple, custom made platform that lets you broadcast streaming radio on the web.
Try our fantastic control panel for Live Broadcasting
Get a feel for how you would control your station.
You will receive access to a functional account for this demo and there is absolutly no obligation to buy.
Full administrative control panel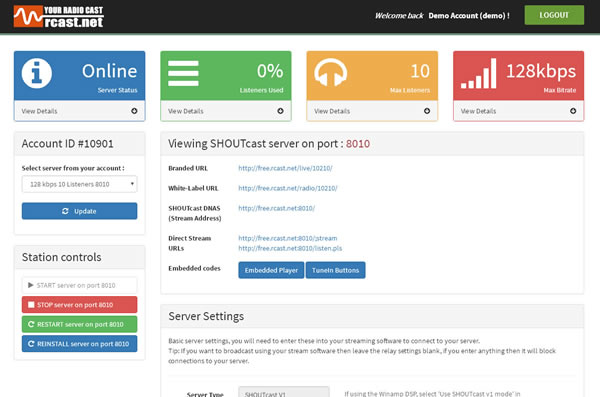 RCAST DEMO CONTROL PANEL
URL : https://us.rcast.net
Username : demo
Password : demo
You can check our innovative solutions yourself by logging into demo account.
All the necessary information can be found above.
Happy testing!